Real Pod Wednesday: Ohio State, CJ Stroud and defense take stock after three games, disappointing performance against Tulsa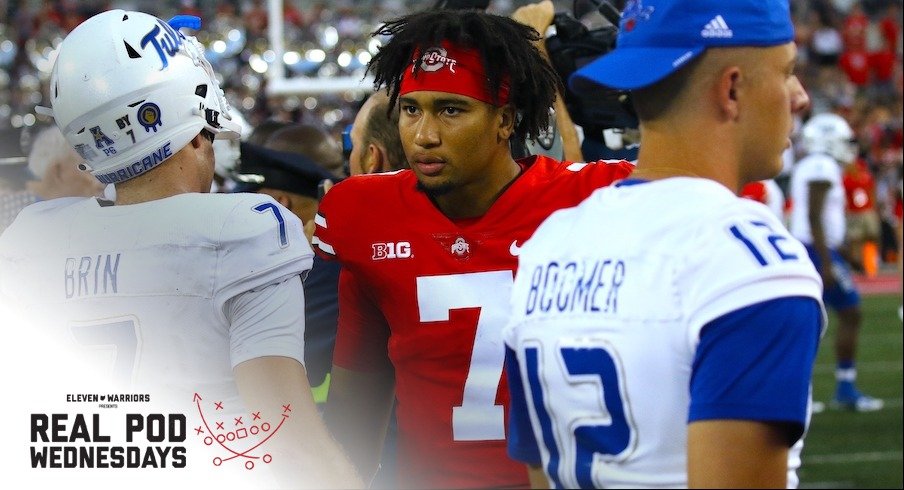 A 41-20 victory over Tulsa did little to allay concerns about the 2021 Ohio State football team.
The Ohio State defense allowed 501 yards against the Golden Hurricane while CJ Stroud had his worst performance so far as an Ohio State starting quarterback. The Buckeyes' offense and ground defense were better against Tulsa than against Oregon, but offense and pass defense declined.
We kick off this week's episode of Real Pod Wednesdays by discussing what went better and what didn't go better for the Tulsa defense, then discuss how Ohio State should. handling the quarterback situation this week against Akron as Stroud continues to struggle with a shoulder injury while alternates Kyle McCord and Jack Miller still await their first game time of the season.
We also talk about what to think about Quinn Ewers who probably won't be playing this year (13:38), how injuries are starting to pile up for this year's team (21:25) and respond to a wide variety of questions from listeners, including whether Al Washington will be in the hot seat if linebacker play doesn't improve (31:08), what honest expectations should be for the remainder of the Ohio State season ( 34:54), if Kerry Coombs deserves less blame for defensive struggles now that he doesn't call games (39:20), if Master Teague should return Buckeyes kickoffs (51:10), how the 2018 and 2019 recruiting classes need to ramp up (54:30) and what we do historically with low attendance Ohio Stadium against Tulsa (1:00:04).
You can listen to Real Pod Wednesdays in the audio player above or anywhere you listen to podcasts, including Spotify, Apple Podcasts, and Google Podcasts.